Language Exams No Match for Ensworth Students
In a year packed with rigorous yet joyful World Language learning, Middle and High School students placed high on standardized language tests in Latin, Chinese, Spanish, and French.
Middle School Awards
Middle School Chinese (Hanyu Shuiping Kaoshi)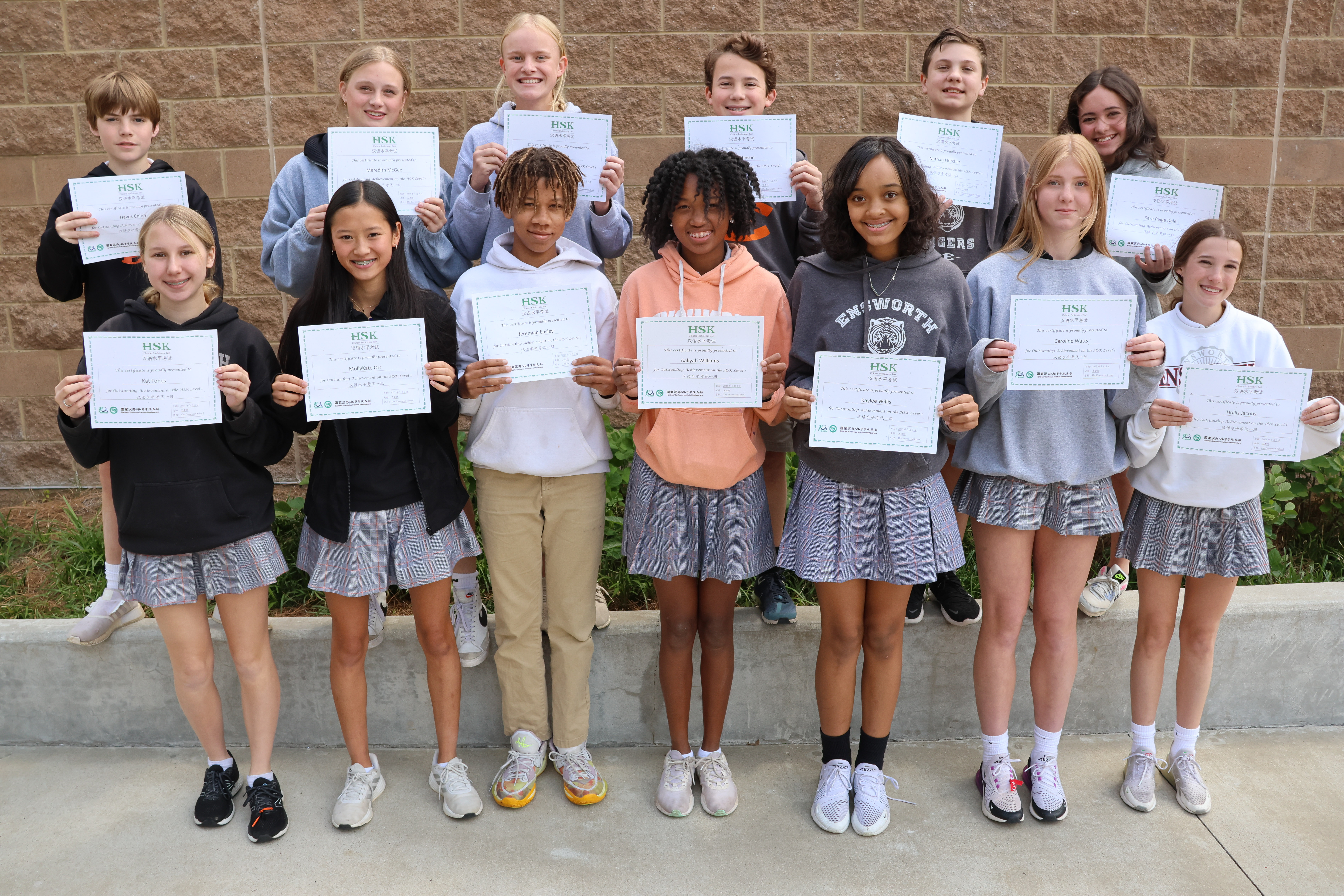 HSK level 1: The HSK (
Hanyu Shuiping Kaoshi
) is an international standardized test designed to assess Chinese proficiency in non-native speakers. The tests are conducted eleven times a year in over 150 countries worldwide with an average of about 800,000 candidates annually. It's a great achievement to pass the HSK Level 1 within 1-2 years of learning Chinese.
Winners
8th Grade
Aaliyah Williams
MollyKate Orr
Tully Johnson
Meredith McGee
Hollis Jacobs
Elsa Staelin
Sara Paige Dale
Jeremiah Easley
Kat Fones
Caroline Watts
7th grade
Nathan Fletcher
Hayes Chinn
Kaylee Willis

Middle School Latin (National Latin Exam)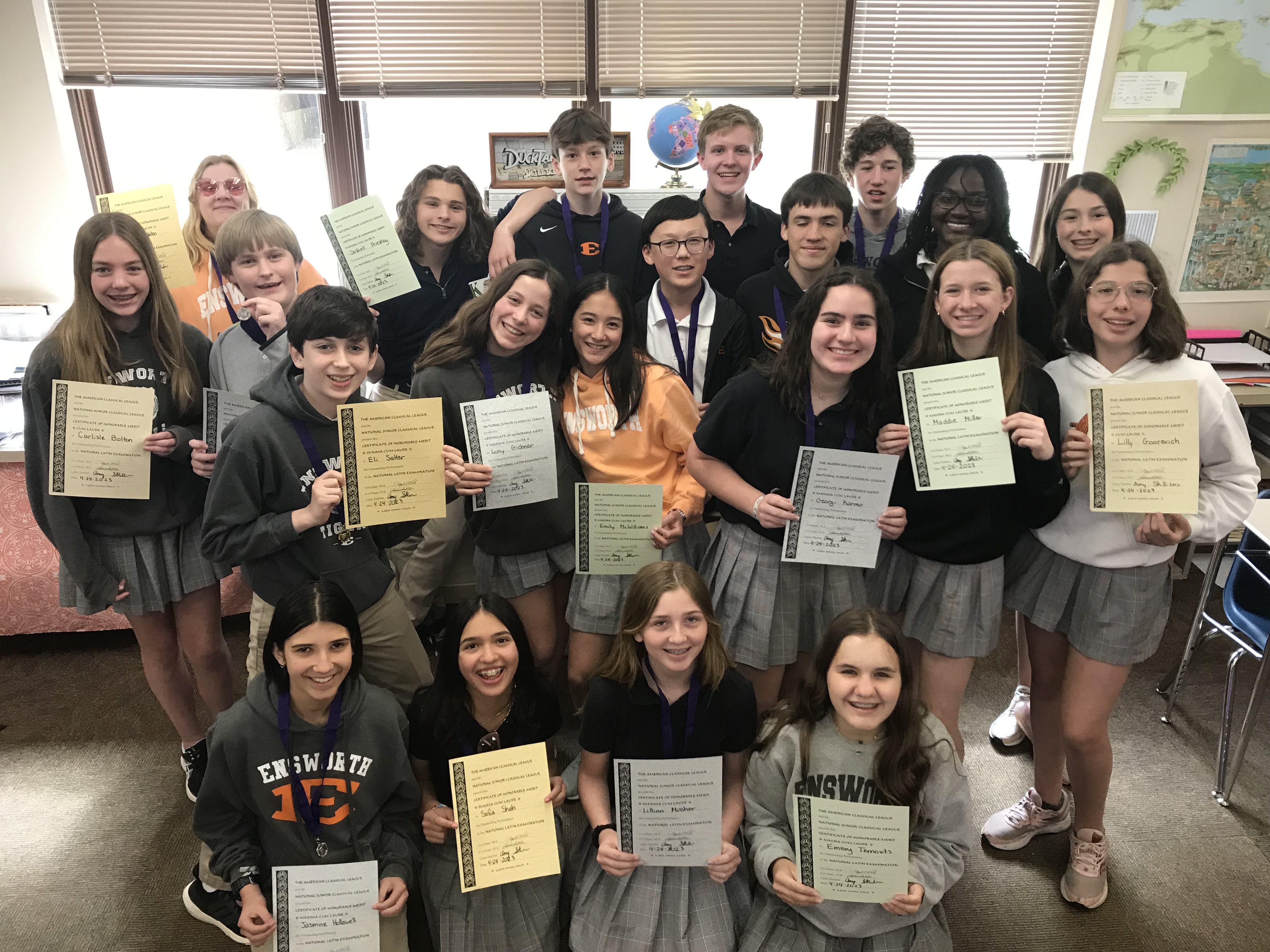 Ensworth Middle School had 37 students rank nationally on the
National Latin Exam
. Nearly 100,000 students take the National Latin Exam. Here are their medals:
Gold Medal: Summa Cum Laude
Tyler Roh
Christian Kurtz
Giselle Michael
Lillian Goldner
Sebastian Eveland
Atia Mansouri
Sofia Shah
Ada Stapleton
Eli Salter
Jase Maxwell
Silver Medal: Maxima Cum Laude
Lillian Mosher
Tom Courtney
Adeline Courtney
Hugh Mixon
Georgi Karmo
Emerson Darr
Drew Bass
Alannah Wong
Lucy Gichner
Lucy Atwood
Beckett Adams
Jasmine Hollowell
Jet O'Rear
Tucker Lyman
Davis Bryant
Magna Cum Laude
Noah Franklin
Cael Tierney
Maddie Miller
Emery Ternovits
Neriah Taylor
Claire Murray 
Grant Kinnett
Emily McWilliams
Dashiell Priestley
Tempo Haun
Cum Laude
Lilly Goorevich
Carlisle Bolton
Middle School Spanish (National Spanish Exam)
Thirty-three Grade 8 Spanish students and 22 Grade 7 students ranked nationally on the National Spanish Exam. The National Spanish Exam is a standardized assessment given voluntarily to nearly 75,000 students throughout the United States to measure proficiency and achievement of students who are studying Spanish as a second language.
Oro (Gold)
Students scored at or above the 95th percentile
Sutton Korn
Thao Le
Noa Lemkin
Soren Sugalski
Plata (Silver)
Students scored from the 85th through the 94th percentiles.
Joe Amden
Matthew Boyce
Sarah Choma
Caroline Cox
Mills Darst
Logan Green
Cooper Lucy
Bianca Otalvaro-Dayon
Wayland Stapleton
Noel Whitfield
Zoey Rushing
Bronce (Bronze)
Students scored from the 75th through the 84th percentiles.
Mitchell Addison
Whit Alexander
Salem Bahr
Macie Biller
Millie Coppeans
Anders Damp
Graham Dean
William Dorr
Claire Flury
Caitlin Hesse
Elle Hutcheson
Marin Kurita
Ella Meade Poe 
Shep Porterfield
Ben Rios
Mateo Scala
Mención Honorífica (Honorable Mention)
Students scored from the national average through the 74th percentile. 
Alex Aplin
Champ Banks 
Colton Bowers 
Charlotte Figler
Ben Fleming 
Emme Fulghum
EJ Gibson
Aria Hanna
Aidan Kilgore
Annie Lane 
Belle Lawi
J.Wesley Looper
Clover Martin
Sahana Mehta
Milo Miggs
Casey Nuchow 
Henry Peck
Hines Porterfield
Hank Rusie 
Holden Smith 
Rae Turberfield 
Cooper Vallejo 
Anne Vaughan 
High School National Exam Awards
National Spanish Exam

Gold

Mia McDermott, Tatum Saunders

Silver

Hudson Honeybone, Katarina Santiago, Bayley Bartman, Alden Boyce, Julia Linn, David Choma, Alara Weitkamp

Bronze

Jack Ross, Frances Duvall, Estelle Newell, Katie Barrier, Cate Barfield, Sampson Neyman, Caryss Green, Evie Denbo, Campbell Bodzy, Camilla Garza, Claire Gracey
National French Exam

Gold

none

Silver

Bernardo Barbalat, Brian Tierney

Bronze

Elle Evans, Kennedy Aderogba 

Honorable Mention 

10
National Latin Exam
Gold Summa Cum Laude
Intermediate Latin
James Heinrichs
Collin Spitzer
Intermediate Latin Reading Comprehension
Robbie Schader
Brenna Hanbury
Advanced Latin Poetry
Silver Maxima Cum Laude
Intermediate Latin
Avery Franklin
Hobs Atwood
Intermediate Latin Reading Comprehension
Magna Cum Laude
Beginning Latin
Intermediate Latin
Peter Bryant
Mya Jones
Sadie Anderson
Intermediate Latin Reading Comprehension
Leah Jackson
Lizzie McWilliams
Back